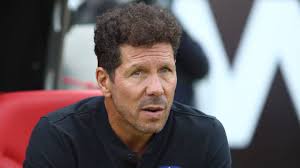 After Diego Simeone match, He rose to praise Ronaldo as a single player who can influence and lift the team while saying that Messi always need the support of his teammate for him to perform.
Diego Simeone: "You can take Cristiano Ronaldo to a war and he'll win it for you all alone, for Lionel Messi you need to bring all of his Barcelona teammates so he could actually do something."
Ronaldo has scored 25 goals in 33 games against Diego Simeone's Atletico to date, and will no doubt be looking to add more to that tally when next they meet.
Simeone further added
"What I consider is that in a team with fewer solutions, Ronaldo is a better fit because he provides many solutions," Simeone began.
"For a team which focuses on football, Messi is much better.
"We are talking about very fine margins of how a team plays," he stated.
"Cristiano can decide a game in a different way, he doesn't need ten attacks. He scored two headers against us and we were out," the Atletico boss said.
Simeone went on to speak of the subtle differences between the two world superstars.
"Both need a team but the differences are very small.
"Lionel, in an attacking team always plays better. The other [Ronaldo] can win a game in two actions, he simplifies the situations.
"Messi is mesmerising because he plays elaborate football.
"Leo plays in a team that compliments all of his talent. He always ends up finding solutions," he concluded.
Simeone also expressed relief that his side would not be facing Ronaldo when Atletico plays Madrid in the final.
Atletico is preparing to face a Real Madrid team without Ronaldo, who has moved to Juventus after a lengthy spell with Real Madrid.